Medway Deaf Club

49/51, Balmoral Road,
Gillingham,
Kent.
Welcome To My Home Page
We have decided to have the information available to everbody, who want to know about Medway Deaf Club. This club is social and sport club for the deaf and hard of hearing and their friends. We have the bar (very important!). We are open every Thursday evening and Saturday evening. You all are welcome to visit and see for yourself. You will find the programme of future events in the page "What New".
How to get there. Very easy!!. See Below.
This club is very easy to reach. It is across the road from Gillingham Station, which has frequent trains to London and coast. Also there is a coach station, about five minutes walk to the club. Also any deaf person from Europe can, easily, get to the club by train from Dover off the ferry.
Send an email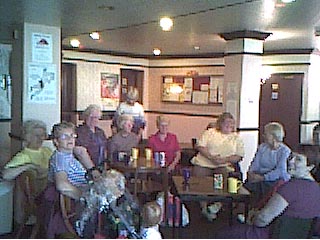 Members of the Deaf Club
Enjoying a gossip!
Send an email